Startup Business – Hello friends, do you want to leave your business startup dreams because funding is becoming a hindrance? Non-funding has become a very serious problem for many industries.
And this is the only reason why business never gets off the ground. Even though you have a great idea and passionate passion, you are not able to execute it. But friends, do not let money become a barrier in the way of achieving your goals.
Finding funding for startup is difficult, friends, but not impossible. Never let a wonderful business idea slip out of your hands just because of money in life.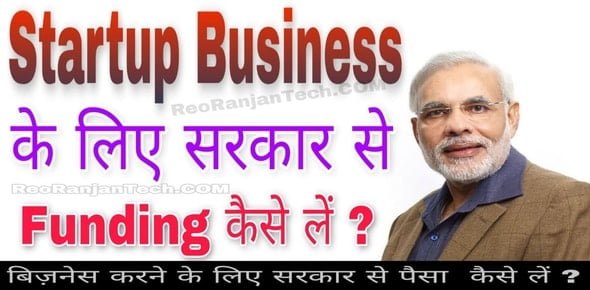 Startup Business Ke Liye Funding Len.
Friends, if you need funding for your business, then this article of mine can prove to be very useful for you today. So let's start the article with a good idea…
Looking For Funding? – Website – startupindia.gov.in
स्टार्टअप पात्रता मानदंड
स्टार्टअप इंडिया प्रोग्राम के तहत आपको क्या स्टार्टअप बनाता है?
The firm must be a private limited company or a limited liability partnership.
The company remains a startup for the first ten years, post the date of registration. In recent times, the Indian government changed to give opportunities to companies from 7 years to 10 years and tax exemption for longer periods.
If the company turnover per annum does not cross the Rs 100 crore mark in 10 years, then it remains a startup. Once a company crosses the mark, it no longer deserves to be called a startup. The Rs 100 crore mark has also been improved by the Government of India from Rs 25 crore in the recent past.
The firm should have approval from the Department of Industrial Policy and Promotion (DIPP).
The firm must be funded by an incubation fund, an angel fund or a private equity fund.
A custodial guarantee from the Indian Patent and Trademark Office is required.
You should have a recommendation letter by an incubation.
The firm should come up with new ideas and plans.
All monetary details must be registered with the Securities and Exchange Board of India.
Procedure for registering a Startup in India:
Step1: अपने व्यवसाय को शामिल करें।
First things first, you need to incorporate your business as a private limited company or limited liability partnership or a partnership firm. You just need to follow the simple procedure wherein you need to fill a form to get the registration.
Step2: Startup India के तहत पंजीकरण करें।
Now you need to register your firm or company as a startup in the Startup India scheme of the government. All you have to do is fill up the form available to you on the Startup India website. You have to fill all the details and also upload a certain number of documents.
Step3: दस्तावेज़ आपको केवल एक पीडीएफ फॉर्मेट में अपलोड करने की आवश्यकता है।
पंजीकरण फॉर्म के साथ आपको एक सिफारिश पत्र की जरूरत है। आप निम्नलिखित अनुशंसा पत्रों में से किसी एक को पा सकते हैं।
A recommendation letter from a known incubator in a post-graduate college in India, in the format approved by DIPP. It's about the innovative nature of business,
A recommendation letter from the incubator that the Government of India will fund innovation as part of any specified scheme or
Letter from any of the Incubators recognized by the Government of India in DIPP format.
An Incubation Fund, Private Equity Fund, Angel Fund, Accelerator, Private Equity Fund, not less than 20% in SEBI, a letter of funding, registered with SEBI that supports the innovative nature of the business or
a subsequent recommendation by the Central or any State Government of India or
A patent that is filed and published in the Journal of the Indian Patent Office in the areas concerned with the promotion of the nature of business.
Registration या निगमन प्रमाणपत्र
You have to upload the certificate of incorporation of your company or LLP or the registration certificate for partnership company.
Step4: यदि आपको कर छूट की जरूरत है, तो आपको उल्लेख(mention ) करना होगा।
Read More:- Themeraja Reviews & Special Offer Coupon Code
In India, startups do not have to pay income tax for the first three years, but to avail such benefits, the company must be certified by the Inter-Ministerial Board (IMB). This is where companies registered with DIPP get exemption as registration is enough to get benefits.
Step5: निम्नलिखित स्थितियों का Self-certification
आप एक Private limited company हैं, एक LLP या एक साझेदारी फर्म।
आपका व्यवसाय भारत में 5 साल से पहले नहीं शामिल या registered होना चाहिए।
आपकी कंपनी का टर्नओवर 100 करोड़ रुपये से ज्यादा नहीं होना चाहिए।
कंपनी को कुछ नया करना है या मौजूदा प्रणाली को अपने तरीके से बेहतरीन बनाना है।
आपका व्यवसाय एक नया विचार होना चाहिए और मौजूदा व्यवसाय का distribution या पुनर्निर्माण नहीं होना चाहिए।
Step6: अपनी recognition number प्राप्त करें
On the application of this registration, you will get a recognition number with immediate effect. You get the certificate of registration or incorporation only after the authority has gone through all your uploaded documents.
You need to be careful while uploading the data, as any discrepancy in it can fetch you a hefty fine of up to 50% of your paid up capital or a fine of Rs 25,000 at the very least.
Now that you know the eligibility and registration criteria for a startup, enroll in the Startup India scheme along with your company and get all the benefits provided by the government.
मेरा आर्टिकल पसंद आये तो इसे like और share जरूर करें।
Read More:-